Travel Advisory
Visa is not required. All non-Palauan passport holders must have a valid passport with return travel arrangements. Upon arrival, 30-days visa is issued by Immigration and may be extended for additional 30-days for a fee of $50.
One bottle of liquor and up to one carton of cigarettes can be brought into Palau duty-free. Importation of controlled substances and weapons is strictly prohibited. Exportation of seasonal fish, other marine and bird species are prohibited. Please contact Marine Resources at telephone number 680 488 3125, prior to purchasing or exporting of such.
Non-Palauan passport holder departing from Palau is required to pay Departure Tax of $20 and Green Fee of $15 at the Airport prior to departure.
Health Tips: Currently, there are no health restrictions or known outbreaks of influenza according to the Palau Ministry of Health. However, visitors are advised to apply sunscreen and drink lots of water when planning an outdoor activity. Hand washing is also recommended to prevent the spreading of infectious diseases.
About Palau
Spectacular 400-mile long strand of pearls laid across emerald-turquoise sea best describes this jewel of the pacific. The Republic of Palau archipelago consists of the high island of Babeldaob, the low coral atolls of Kayangel to the northeast and in the south, Koror, Peleliu, Angaur, Tobi, Sonsorol and more than 586 limestone Rock Islands that from the air look like giant green mushrooms.
Koror, the business and commercial center of Palau has many attractions within walking distances from hotels, stores and conference venue - from the only Shinto Shrine outside Japan, Belau National Museum, Etpison Museum, Palau Aquarium and many more.
With the completion of the Compact Road, accessibility to all outlying states in the big island of Babeldaob and the new Palau National Capitol, Ngerulmud where the President, Congress and Traditional Chiefs' offices are located, is now possible. From Koror you can take a drive to Babeldaob for an all day sight-seeing tour to the historical, cultural and eco-tourist sites.
Palau is renowned for its world famous rock islands, Jellyfish Lake and world's best dive destination and considered to some, the 8th Natural Wonder of the World.

For more information on Palau and local events, please visit Palau Visitor's Authority website at
www.visit-palau.com
Conference Site and Activities
The 23rd Annual Association of the Pacific Islands Public Auditor Conference will be held at Ngarachamayong Cultural Center (NCC) which is located between number 7 and number 52 on the Koror Map below. All training tracks and plenary sessions will run concurrently at this location.
In addition to training, following are the tentative activities of APIPA:
Welcoming Reception – Monday, August 20 at the Palau Pacific Resort Poolside from 6:30 p.m. to 10 p.m.
Boat Cruise – Wednesday, August 22, 6 p.m. to 9 p.m. Aboard Seabird Cruise for a night of entertainment, cocktails and light dinner. Boarding at 5:30 p.m. at T-Dock (# 18 on the map).
Klum (Luau) Night – Thursday, August 23, 6 p.m. to 9 p.m. at the Ngardmau Waterfall. Busses will depart from NCC at 5 p.m. (right after the sessions) and will return to NCC at approximately 10 p.m.
Closing Ceremony – Friday, August 24 at the NCC Hall from 6 p.m. to 10 p.m.
Farewell Picnic – Saturday, August 25 at the Rock Islands from 8 a.m. to 4 p.m. The Koror State Government assesses a visitor's fee of $50 per person for Rock Islands, which will be collected at the date and time indicated below. Boats will depart from the Fisheries Dock (# 26 on the map) at 8 am.
Distribution of course materials and collection of registration fees, farewell picnic fees and membership dues – APIPA Secretariat staff will be at the conference venue on Sunday, August 19 from 2 p.m. to 5 p.m. and Monday, August 20 from 7:30 a.m. to 8:30 a.m. handing out course materials, collecting fees and membership dues.
Photo Sessions – schedule of photo sessions will be posted at APIPA Secretariat office on Monday, August 20. Please avail yourself on the scheduled day and time for your appropriate group and country's photo session.
Course certificates – Certificates will be distributed at the Closing Ceremony to the Public Auditor of each of the insular government.
Lunch – APIPA Secretariat will provide FREE pre-packed lunches to all participants throughout the conference days.
T-Shirt for Sale – APIPA T-Shirts will be sold at the Secretariat Office.
Participants are advised to check periodically this page for any changes or updates to the conference's activities and schedule.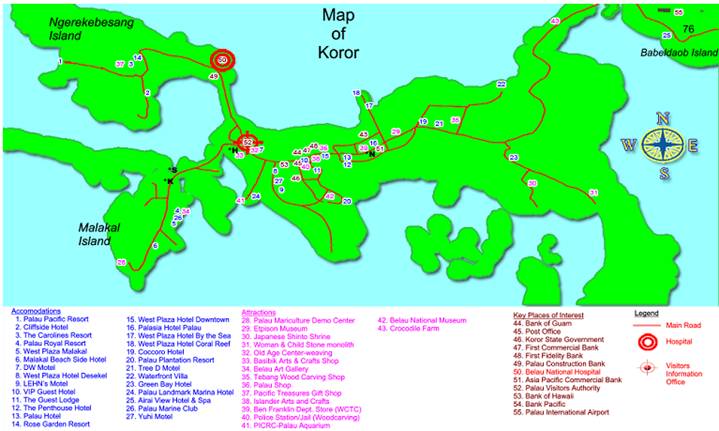 Accommodations in Koror
Number at the top right hand-side of the hotel's photo corresponds to the number on the map.
1: Palau Pasific Resort
Room Rates (tax inclusive)
Ocean View $269.10

The above rate is inclusive of 10% Government Room Tax and 7% Service Charge. Tax and Service Charge are subject to change without notice.

To request for government rate, one must make a reservation by telephone and must provide credit card details to secure the reservation. Government rate is not offered online.
2: Cliffside Hotel
Room Rates (tax NOT included)
Single w/ Balcony $140
Single w/o Balcony $120
Twin $180 (extra bed $35)
Caban $190
Junior Suite $220
Presidential Suite $295

All rooms are subject to 10% government tax, which is subject to change without notice. All rooms are double occupancy, so a couple can stay in a single room. Our single rooms have one queen bed, our twins deluxe have two queen size beds, 4 adults, or 2 adults and 2 kids are allowed to stay in a twin or suite room for the net rate.
Airport transfers are free of charge, but need to be filled in on the reservation form.
3: The Carolines Resort
Room Rates (tax inclusive)

1.  Rack Rate – Single or Double occupancy, includes round trip airport transfer

a.  Standard Unit - US $209/night
b.  Family Unit - US $242/night

2.  Agent Rate – Single or Double occupancy, includes round trip airport transfer
(20% off Rack Rate, payment is due 2 weeks before guest arrival)

a.  Standard Unit - US $167.20/night
b.  Family Unit - US $193.60/night

3.  Extra Bed – US $35/night

Cancellation Policy –   30 days prior to guest arrival NO penalty. 8-29 days prior to guest arrival 10% penalty. 0-7 days prior to guest arrival 20% penalty. Penalties for cancellations due to unforeseen circumstances shall be reviewed on a case-by case basis
4: Palau Royal Resort
Room Rates (tax NOT included)
Standard $300

All rooms are subject to 15% government tax and service charge, which is subject to change without notice. All rooms are double occupancy, so a couple can stay in a single room. Our standard rooms have two twin size beds.
7: D.W. Motel
Room Rates (tax NOT included)
SPECIAL RATES FOR APIPA: enter code "APIPA"

Single $50
Double $65
Triple $80

Since 2008 DW motel had changed management system and been renovated, we also changed all facilities, like split air-con, solar heater system, ice-box, TV, and comfortable beds. We also provide public kitchen and open waiting area for our valuable customers.

We have one triple room and 8 double rooms and 10 single rooms, in single room we have 1 king size bed is good for single or couple and in the double room, we have 1 single bed and 1 king size bed, is good for 2~3pax, the triple room; we have 2 single beds and 1 king size bed, is good for 3~4pax; include free transportation from and to airport.
9: LEHNS Motel & Apats
Room Rates (tax NOT included)
SPECIAL RATES FOR APIPA: enter code "APIPA"

Complete Kitchen in most units; within walking distance to downtown, banks, restaurants, shopping; prepaid internet access; convenient store and laundry facility on the premises; Airport Transfer: $10 per person per way/FREE with minimum of 2 nights stay
10: VIP Guest Hotel
Room Rates (tax inclusive)

Single $88
Triple $103

11: The Guest Lodge Motel
Room Rates (tax inclusive)

Single $64.98
Double $64.98

12: The Penthouse Hotel
Room Rates (tax inclusive)

Single $91
Double $124.30


Airport shuttle $10 per person per way

On the premises: Gym; Self service laundry or can be done by chambermaid; Beauty Shop 8am-7pm; Restaurant-6:30am-11:00pm

Free wi-fi for in-house guests
13: Palau Hotel
Room Rates (tax inclusive)

Single $48
Double $56
Triple $64

14: Rose Garden Resort
Room Rates (tax inclusive)

Bungalow $148

Rate is inclusive of airport transfer and breakfast
16: Palasia Hotel Palau
Room Rates (tax inclusive)

Deluxe Town View $132.25**
Deluxe Bay/Rock Island View $143.75
Junior Suite $218.50
Executive Suite $253


Special Gov't Rates - All rates are inclusive of daily buffet breakfast, subject to single/double occupancy.
** Enter code " APIPA " in remarks field when making online booking

TRANSPORTATION: Pick-up and drop-off service is available, subject to US$15 per person per way between 6.00am until 10.00pm. Additional of US$5 per pax per way between 10.00pm until 6.00am. Advance reservation is required.
CANCELLATION POLICY: Cancellation can be made at least seven (7) days prior to arrival date without any penalty fee.
CHECK IN/CHECK OUT POLICY: The hotel's check in time is 3.00pm and check out is 12.00noon.
LATE CHECK OUT: Is subject to 50% of the room rate from 1.00pm until 6.00pm. Additional one (1) night charges applies after 6.00pm. This is subject to availability.
19: Cocoro Hotel
Room Rates (tax inclusive)

Single $66
Double $77
20: Palau Plantation Resort
Room Rates (tax inclusive)

Premium $180 (double)

Superior Cottage $324 (triple)

All room prices are inclusive of tax.
Airport Transfer $10 per person per way
Price of 1 Extra Bed costs $35/night. (3 beds for Villa, 1 bed for Cottage)
Check In/Out Time: 12:00 PM
Early check in: 100%
Late check out: 100% till resort departure; 50% till 6:00 PM
21: Navigator Inn and Appartments
Room Rates (tax inclusive)

Single $40
Double $50
22: Waterfront Villa
Room Rates (tax inclusive)

Single $75

Double $85
23: Green Bay Hotel
Room Rates (tax inclusive)

Single $88
Double $88

Tripple $105
24: Landmark Marina Hotel
Room Rates (tax inclusive)

Twin Room $200

Double Room $220
26: Palau Marine Club
Room Rates (tax inclusive)

Single $25
Double $35

Shared bathrooms; please visit our website at www.palau-resort.com for further information
27: YUHI Motel
Room Rates (tax inclusive)

Single $72

Double $72

*all rooms with kitchenette
Multi Location: West Plaza Hotel group
5: West Plaza Malakal

8: West Plaza Desekel

15: West Plaza Downtown

17: West Plaza By The Sea

18: West Plaza Coral Reef

Room Rates (tax inclusive)

Standard $97.01 (2 pax)
Deluxe $121.54 (2 pax)
1 Bedroom Deluxe $132.00 (2 pax)
1 Bedroom Suite $157.00 (3 pax)
2 Bedroom w/ Kitchenette $156.20 (4 pax)


**Extra bed is charged $25 daily
CAR RENTALS
Car rentals are available at the Palau National Airport or at their offices in downtown Koror:
Pacific (National) Car Rental
Tel (680) 488 6286
Mobile (680) 775 6286
Fax (680) 488 6286
E-mail:
[email protected]
Budget Car Rental
Hertz Car Rental
I.A. Car Rental
Toyota Car Rental
IR Rent A Car
ARJ Car Rental